An online learning opportunity about Prostate cancers. For GPs and health professionals – Join us on Wednesday 23rd February 2022 at 18:45
Your guest speakers will be Mr Toby Page, Consultant Urological Surgeon at The Newcastle upon Tyne Hospitals NHS Foundation Trust. The event will be held online via Microsoft Teams, which you can join via a web link or the app. Sign up today as spaces are limited!
Event agenda:
18:45: Introductions and welcome
18:50 – 19:50 –Prostate cancer update talk for GPs and AHPs
19:50 – 20:00 – Q&A then close
Attend this event:
This is an online event for GPs and healthcare professionals, hosted by Rutherford Cancer Centres. Signing up is easy, just click 'register', provide a few key details and you will receive an email with your ticket. Joining instructions will be sent to you via email before the event, usually on the morning of the event. Microsoft Teams will be used to host this event.
Guest speaker: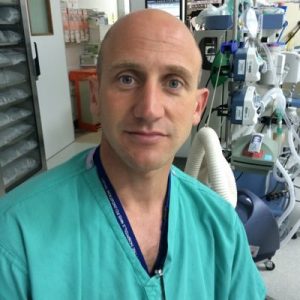 Mr Page specialises in minimally invasive treatments for urological conditions. He uses a number of different lasers for urological surgery including Holmium laser for holmium laser enucleation of the prostate (HOLEP) and stone fragmentation, photoselective laser for prostate enlargement, and thulium laser.
Mr Page trained in prostatic urethral lift procedure for bladder obstruction and percutaneous tibial nerve stimulation for overactive bladder. He performs laparoscopic nephrectomy (kidney removal) for benign and cancerous conditions as well as laparoscopic donor nephrectomy. He is a high-volume laparoscopic surgeon and a committee member for the national renal surgery enhanced recovery program. He performs targeted prostate biopsy for suspicious areas of the prostate for suspected prostate cancer as well as offering a general urology service. Mr Page is the Royal College of Surgeons of England Surgical tutor for the Freeman Hospital and an honorary clinical lecturer at Newcastle University. He is also the clinical governance lead and chair for the Urology and renal directorate at the Freeman Hospital. He is a co-applicant and primary investigator on a nationally-funded laser trial for benign prostate enlargement.